Sports Betting In Colorado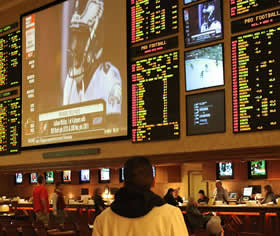 The best way to participate in sports betting in Colorado is through an online sportsbook. This is because, even though there are now plenty of local online sportsbooks, there are also overseas-based online sportsbooks that have been serving CO residents for over a decade. There are also land-based sportsbooks located inside of casinos at Black Hawk, Central City, and Cripple Creek but those aren't accessible to everyone in the state. Either way, Colorado residents are some of the luckiest bettors as they have dozens of options to choose fr om when wanting to put action on a game.
Although, if you want to get the most convenient experience of betting, online sportsbooks are the way to go. You can be sitting in the comfort of your home, at a friend's house, or even at a local sports bar and put action on a game from your phone on games happening live. Here on this sports betting in Colorado page, we'll review some of the basics of using an online book, while also making recommendations for the absolute best online sportsbooks available to Colorado residents.
Does Colorado Have Legal Land-Based Sports Betting?
Fortunately, yes Colorado has land-based sports betting now. The issue was put on the November 2019 ballot and voters overwhelmingly showed their support for the idea. However, it wasn't until June of 2020 that the first land-based sportsbook in Colorado opened up. Casinos in only three cities are permitted to host CO land-based sportsbooks and those cities are Cripple Creek, Black Hawk, and Central City. An establishment in any other place is unlicensed and unsafe to use to bet on sports. Those three towns are historically known for being gambling towns and are all located close to Denver. Black Hawk and Central City are only an hour out from Denver while Cripple Creek is about two hours away from Denver and one hour away from Colorado Springs.
Is Online Sports Betting Legal In Colorado?
Yes, online sports betting in Colorado is legal and the market is thriving. The first state-regulated sports betting sites and apps launched on May 1, 2020 and have not looked back since. There are now close to two dozen sports betting apps that are run through the state's gaming commission. However, these aren't the only online sportsbooks that CO residents can use. Online sportsbooks based outside the U.S. have been serving CO locals for well over a decade.
The reason those types of sites are legal is because they do not have to abide by state or federal law. To add to that, there is nothing within the current Colorado law books that prohibits people from using those platforms. While there are plenty of local online options to choose from, none of them include features like betting with bitcoin, betting on elections, betting on entertainment events, and more. Plus, those sites can be used even if you're traveling outside of CO. Read more about the different states with legal sports betting here.
Which Sports Betting Sites Accept Colorado Residents?
There are dozens of high-end sports betting websites out there, the majority of which accept Colorado residents. This is because Colorado is unregulated, which we said earlier is a positive for new and seasoned online sports bettors.
While there are many different sites to choose from, it is still essential for players to find the sports betting websites that are known for being reliable, trustworthy, and safe. The best way to find one of these sites is to do some research and look for certain factors, such as customer support, an array of payment options, several sports betting options, and an easy-to-use betting platform. Any site you choose should also provide you with player rewards such as free bets, perks, and bonuses.
Top Colorado Sports Betting Sites
Rank
Online Sportsbooks
Bonuses Offered
Rating
US Players?
Play Now!





Other Types Of Gambling Available In Colorado
Colorado may have the largest number of casinos in one state than anywhere else in the U.S. This is largely due to its relaxed stance on gambling, not to mention the high number of Native American tribal casinos spread throughout the state. Many of these casinos are small and only offer a few tables and slots, though most are located in Central City, Cripple Creek, and Blackhawk.
With 41 land-based casinos, the Colorado gambling industry is booming. These casinos, combined with a state lottery, bingo, and a live racing track, go to show the positive economic impact of land-based gambling.
Does Colorado Allow Pari-Mutuel Betting?
The legal age to bet on sports online in Colorado is 21. Most online sportsbooks will allow you to create an account when you turn 18, but to avoid trouble when you're withdrawing, we recommend that residents who wish to participate in sports betting in Colorado abide by their state's age requirements rather than the sportsbooks'.
How Old Do I Have To Be To Bet Sports Online In Colorado?
In Colorado, residents can only bet sports online. The legal age to bet sports online in Colorado is 21. Most online sportsbooks will allow you to create an account when you turn 18, but to avoid trouble when you're withdrawing, we recommend that residents who wish to participate in sports betting in Colorado abide by their state's age requirements rather than the sportsbook's.
What Teams Can I Bet On In Colorado?
Colorado has a number of teams for fans to wager on, whether they're on the professional or college level. Colorado has a professional team for all of the majors: MLB, MLS, NBA, NHL, and of course, NFL. They've also got four major college teams to wager on. We've listed all of them here for you.
Professional:
Colorado Rapids (MLS)
Colorado Rockies (MLB)
Denver Broncos (NFL)
Denver Nuggets (NBA)
Colorado Avalanche (NHL)
College:
Colorado Buffaloes – Boulder
Colorado College Tigers – Colorado Springs
Colorado State Rams – Fort Collins
Denver Pioneers – Denver
Best Deposit Methods For Colorado Residents!
The best deposit methods for Colorado residents should be quick, efficient, and reliable. Most online books will offer you several different ways to fund your account, but certain methods are better than others when it comes to speed or high deposit limits. Below, we'll go over a couple of the best deposit methods for Colorado residents who are looking for a couple of different things.
First up we've got Bitcoin. This digital currency has taken online sports betting in Colorado to new heights with its speedy banking abilities. With Bitcoin, you can make a deposit and be on your way to wagering in minutes. This digital currency is not associated with any US financial institution. Rather, it operates independently of any bank; it is its own currency. Bitcoin has no fees for depositing, and depending on the book you're using, has reasonably high limits.
Next, we've got credit cards. This is the most traditional and one of the best deposit methods for Colorado residents. The top sportsbooks accept all of the major credit cards, like MasterCard, Visa, and even American Express. Credit cards allow you to deposit incredibly quickly. As an alternative, you can use your debit card or a prepaid card of the same company. Make sure that they are enabled to make online, overseas purchases.
Finally, if you're looking for a method that isn't all about speed and focuses more on depositing large sums in one go, we recommend bank wires. This deposit method generally doesn't have a limit as to how much can be dropped into your account and is ideal for those residents who wish to make large wagers while betting on sports in Colorado. It can take a few hours for this deposit to be processed, however.
Is Betting Real Money Online Safe?
Betting real money online is incredibly safe. Online sportsbooks, especially those recommended on this page, use the latest and greatest in encryption technology to make sure that all of your financial and private information are kept safe. There's also nothing preventing residents from online sports betting in Colorado. Currently, there are no laws that even mention online sports betting in Colorado, so there's nothing to be concerned about. Colorado sports fans and betting connoisseurs will all be happy to know that betting real money online is safe, legal, and so much better than flying to Las Vegas every time you want to make a wager.